Beat the criminals before they beat you!
Lock Snapping – The Problem:
In as little as 13 seconds an intruder can get past a euro cylinder door lock as illustrated below by using simple DIY tools
The vast majority of doors in the UK & Ireland could have these vulnerable euro cylinder locks
The Police are now urging home owners to check and upgrade their door security. The BBC have recently reported on the rise of lock snapping to further inform the public of the need to review their door security
Many lock manufacturers have attempted to increase the strength around the fixing position on the euro cylinder and have introduced anti-snap lines – burglars have quickly developed their methods of attack and are simply bypassing these reinforcements.
 

The Solution
The ABS Snap Secure Lock is the only lock available with our patented snap secure technology which will effectively lock the central cam in place. The ABS snap secure technology totally blocks access to the door bolt mechanism inside the lock case to effectively combat a snap attack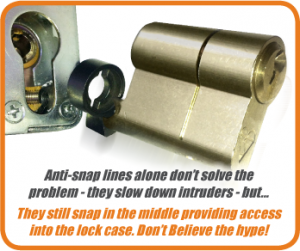 ABS the only security cylinder with both TS007 3 STAR rating and SS 312 Sold Secure Diamond accreditation's across all sizes
ABS is the highest accredited euro cylinder available in the UK today
TS007 3 Star rated out of the box – no need for cylinder guards or security handles
SS 312 Sold Secure Diamond Accredited
No additional prep – easy retrofit
Snap Secure Technology – Cam locks against the internal locked side of the cylinder making the cylinder impervious to manual attack after snapping
Ant-Snap, Pick, drill & bump resistant
British Standard Kitemark logo stamped
Police preferred Secured by Design accreditation
Available in keyed alike, thumbturn, singles** & double profile formats
Available in master key suit formats
ABS is the only door cylinder lock that is genuinely snap secure without the need for additional security devices such as cylinder clamps, guards and security handles, all of which require machining of the door to fit
ABS keeps raising the standards and is now accredited with the new BSI TS007 3 star rating for security hardware – the new British standard which tests the enhanced security requirements for replacement euro cylinders
ABS has also been accredited with the Master Locksmith Association's Sold Secure Diamond Standard, the highest standard for a security cylinder and also holds 'Secured by Design Status'
Panther Locksmiths is working with Avocet, the makers of the ABS snap secure locks to offer its customers the highest in standards in terms of Security. Call us today for your free no-obligation quotation 07508 918188
Victim Of Crime ? We Can Assist